Marc Rheinard is the 2010 IFMAR Electric Touring Car World Champion successfully defending his title with another easy win in the second A-Main here in Burgdorf, Germany. The 2004 & 2008 Champion led from start to finish to wrap up his third title as the chasing pack once again took each other out.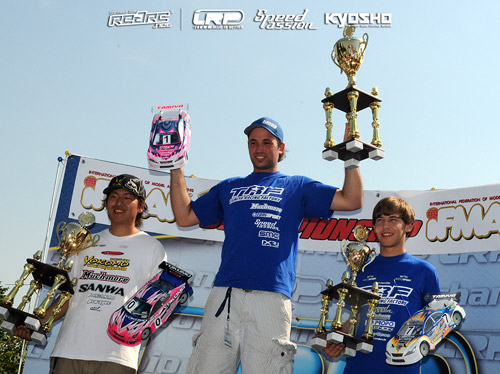 The German said while the win had come easy on the day, a lot of hard work had gone to prepare for the event. Touring Cars most successful driver who has won all his three World titles driving for Tamiya said he wanted to thank all the Tamiya team in particular his team-mates and Speed Passion for their support. Rheinard said he felt really bad for Jilles Groskamp saying the Dutch ace never has any luck.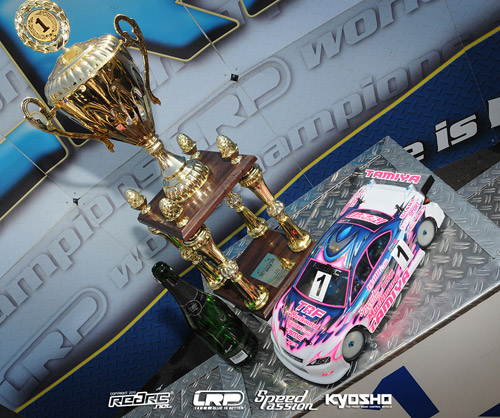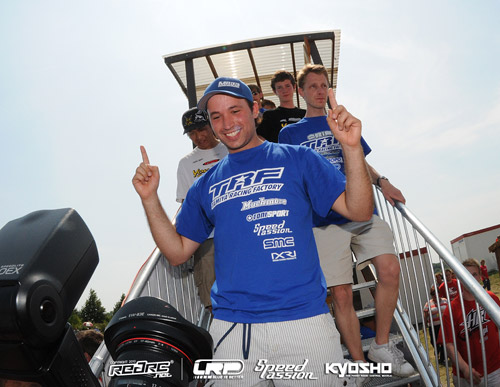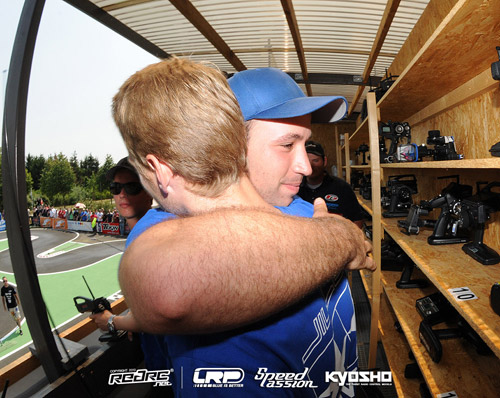 Beyond salvation





Number of posts

: 638


Age

: 37


Woonplaats

: Lier


Registration date :

08-03-08



Spijtig voor Jilles dat die de eerste 2 finales van de baan 'getikt' werd.
T'beste is dat Tamiya toch weer het WK wint

Won't go





Number of posts

: 51


Age

: 25


Woonplaats

: Lier


Registration date :

28-11-09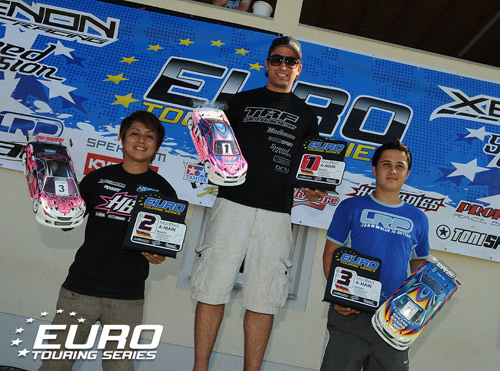 As the podium presentations get underway here in Andernach, Germany, and the curtain comes down on a third successful Euro Touring Series season the big question being asked is can anyone beat Marc Rheinard. The German dominated the World Championships 2-weeks ago lifting his third World title and here at the sixth & final round of the Xenon Racing backed ETS the Tamiya star continued his rule over electric Touring Cars. Winning the third leg of the final from pole, Rheinard claimed his fourth win of the 2009/10 series and adds the overall title for the first time to his already enviable CV. Benefiting from being the only driver on fresh rubber, Rheinard took a relatively easy win over Ronald Volker and Atsushi Hara who joined him on the podium but in the opposite order
2009/10 Standings after 5 rounds
Modified Class
1. Rheinard Marc - 620pts2. Wilck Viktor - 615pts
3. Prümper Yannic - 600pts
4. Hudy Martin - 584pts
5. Ehrbar David - 575pts
6. Moore Andy - 574pts
7. Kunák Zdenko - 572pts
8. Laptev Ivan - 568pts
9. Fadtke Dennis - 557pts
10.Bok Michal - 551pts
11.Hamak Zdenek - 542pts
12.Treder Lars - 535pts
13.Romagnoli Michele - 532pts
14.Klöckner René - 528pts
15.Pumpler Thomas - 520pts
Beyond salvation





Number of posts

: 638


Age

: 37


Woonplaats

: Lier


Registration date :

08-03-08




---
Permissies van dit forum:
Je
mag geen
reacties plaatsen in dit subforum