Hallo,
Ik heb momenteel een Futuba 2PL AM zender en ik denk dat het tijd wordt dat ik deze vervang na bijna 10 jaar...
Heeft er iemand ervaring met de Graupner XG-6I race spec 2.4Ghz zender?
Is dit een goede zender?
Ik gebruik nu enkel de EPA en EXP...is er nog iets wat ik nodig heb op een zender...?
Alle tips zijn welkom...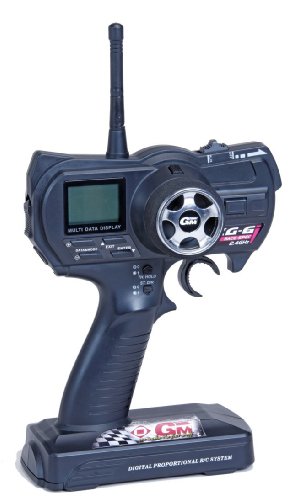 The new XG-6i RACE SPEC three-channel radio control system from GM-Racing offers reliable 2.4 GHz technology combined with an unbeatable price : performance ratio. The clearly arranged LCD screen and wide range of practical adjustment facilities make it the ideal system for the ambitious racing driver. All the important controls are positioned within easy reach of the hands on the ergonomically efficienttransmitter case, enabling the driver to make adjustments even when the model is running.

2.4 GHz ISM system, eliminating plug-in crystals and channel selection processes
Immune to interference caused by electric motors and metal-to-metal "noise"
Short transmitter aerial, can be folded and removed
Ultra-fast transmission rate
Large, clearly arranged LCD data monitor
Sixteen model memories (with model name and copy function)
Two proportional channels and one switched channel (AUX)
Four-button terminal for programming all parameters
Programmable fail-safe
Digital trims
Servo reverse
Servo end-point adjustment (EPA) for all channels
Servo travel adjustment (Dual Rate) for the steering servo, range 0 - 120%
Sub-trim and Expo settings for throttle and steering servos
Brake mixer function for large-scale models
Anti-block system (ABS) for the throttle servo

Variable transit speed for the throttle and steeringservos Auto-Start function (ATS)
Throttle Hold for the throttle servo
Integral count-up or count-down timer
Transmitter battery low voltage warning with audible alarm
Transmitter charge socket
Foam rubber steering wheel for accurate steering



Specification

XG-6i Race Spec transmitter, 2.4 GHz
Frequency band: 2.4 - 2.483 GHz
Modulation: DSSS (Direct Sequence Spread Spectrum)
Operating voltage: 8.7 - 12 V
Current drain: approx. 300 mA (at 9.6 V)
Channels: 3, incl. one switched
Servo travel: 0 - 120 %, variable
Temperature range: 0 - 70° C

Specification, XG-6i receiver, Order No. 94000.1
Frequency band: 2.4 - 2.483 GHz
Modulation: DSSS (Direct Sequence Spread Spectrum)
Operating voltage: 4.8 - 6.0 V
Current drain: approx. 14 mA (at 4.8 V)
Channels: 3, incl. one switched
Dimensions: 38 x 25 x 16 mm
Weight: approx. 13 g


Groetjes,
Günther
Heeft er niemand een idee over deze zender?
Is het de moeite om deze zender te kopen...of is het eerder raadzaam om verder te sparen voor een duurder model?
ik denk dat je best met een spectrum zender bent van het merk spectrum
die zijn niet duur
Beyond salvation





Number of posts

: 394


Registration date :

04-06-08



Wat heeft een spektrum zender meer te bieden dan deze graupner?
De goedkoopste spektrum is de DX2.0 die ongeveer 130€ kost...
De graupner kost maar 90€ en heeft volgens mij meer functies...ja kan er bijvoorbeeld 16 modellen in opslaan terwijl de DX2.0 er maar 2 aankan...
En als je een hoger model van spektrum neemt, gaat de prijs ook gevoeliger naar omhoog.
Persoonlijk heb ik een beter gevoel bij het merk spectrum
Maar zo als ik al zij dit is persoonlijk
Als je echt iets goed wil koop je best een futaba 4 pk , ko propo , sanwa
ik zelf rij met een ko propo EX-10 helios
gr

Beyond salvation





Number of posts

: 394


Registration date :

04-06-08




---
Permissies van dit forum:
Je
mag geen
reacties plaatsen in dit subforum